Why Pampered Pups?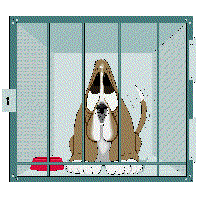 ---


RELIEF OF STRESS FROM TRAVEL AND NOISY VISITS TO GROOMING SHOPS.

WE OFFER A SPECIAL SUPPORT SYSTEM FOR OUR SENIOR CLIENTS, ELIMINATING
THE STRESS AND STRAIN CAUSED BY STANDING.

ANIMALS ARE NOT CAGED ( LIKE THE POOR GUY ABOVE )

WE OPERATE IN A SELF CONTAINED HEATED/AIR-CONDITIONED VEHICLE REQUIRING
NOTHING FROM THE HOMEOWNER.

NO SEPARATION ANXIETY.

YOUR PET IS HANDLED IN A CLEAN, COMFORTABLE & SANITIZED ENVIRONMENT.

NO CONTACT WITH OTHER ANIMALS.

ELIMINATES PICK UP AND DELIVERY TIMES.

WE DO OUR BEST TO ACCOMMODATE OUR CUSTOMERS BUSY SCHEDULES.

WE USE ALL NATURAL PRODUCTS.

REASONABLE RATES ( Call for details ).

---
Return To Pampered Pups Home Page
---